Desi Tricoaching was founded in 2019 by Shray Kandhari. It is a month to month online coaching service for endurance sport athletes such as swimmers, runners, cyclists, triathletes and mountaineers. At Desi TriCoaching we create personalized training programs for individuals trying to accomplish atheltic goals such as a triathlon, half marathon, full marathon. We leverage the power of technology such as online training log and delivery platforms and smart watches to create and deliver personalized training. We coach athletes from all walks of life and from all over the world. We coach athletes in India (New Delhi, Mumbai, Indore, Cochin, Pune, Calcutta, Guwahati, Shillong, Tezpur etc), UAE (Dubai etc), USA (San Diego, San Jose, Houston etc), Australia (Sydney etc) etc. Location and currency has never been a problem. We work on a month to month basis because we believe that if an athlete enjoys training with us, there is no reason for us to bind them to quarterly/yearly commitments. We understand the rigors of training full time while having a full time job therefore we help them optimize the training programs by weaving it around their hectic lives. We assist you in all aspects of training till you reach your desired goal. Reach out to us and we will find a way to make things work.
Our vision is to help folks from all walks of life become a better athlete and to help them accomplish their athletic goals no matter how unrealistic they might seem at this moment.
Our mission is to make coaching for endurance sports accessible to the general public at an affordable price. We want to disseminate information about the fundamentals of endurance training while we coach athletes.
Our Logo
Desi Tricoaching believes in bringing the best out of people not just by hardwork but also emotionally. It takes simple steps to bring out the best through customized comfort, communication & hardwork. There is no rigidity, no discrimination, no racism, no partiality but only positivity, hardwork, dedication, motivation to achieve success.
It carries an aura of vibrancy that represents the spirit of the sport.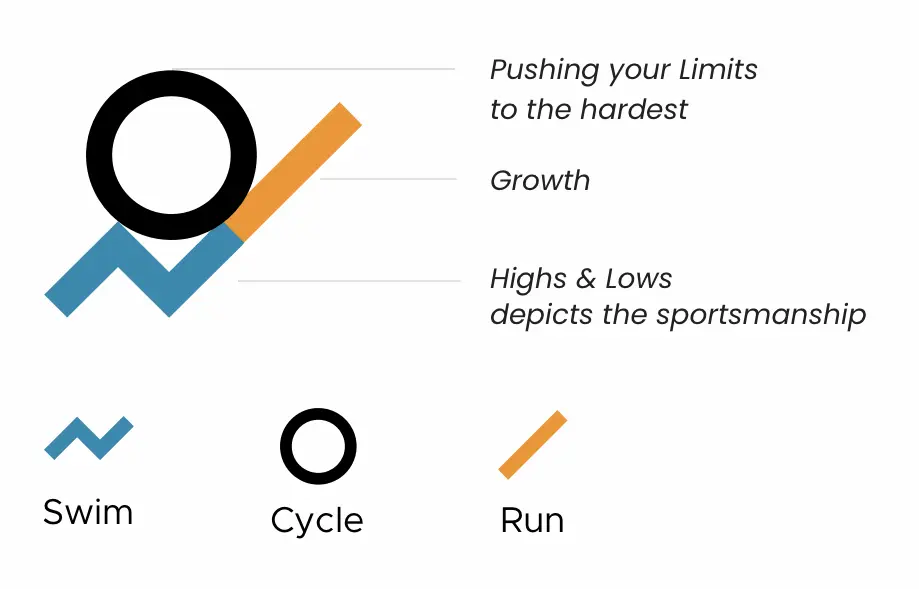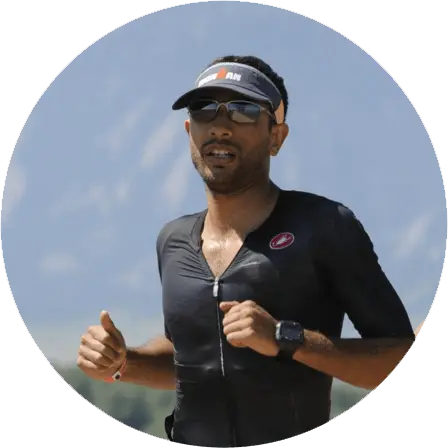 Shray Kandhari
Shray Kandhari used to be a chain smoker who struggled to run a 5K in 2012 but has come a long way since then. He has now successfully competed in various races, from a 5K to an Ironman. Shray qualified for the Ironman World championship 2023, held anually at Kona, Hawaii and had also qualified twice for Ironman 70.3 World Championships. He is an Ironman Certified Coach and an Ironman All World athlete who wants to give back to the community. He has trained athletes of all levels from all walks of life. He has helped them get faster in their sport and helped them complete their first 5k/marathon/Ironman. Shray has also coached mountaineers who have summited various peaks such as Mt. Kilimanjaro, Mt. Manasalu, Mt Everest. He had also coached Harshvardhan Joshi under the mountaineering program which helped him build fitness to summit Mount Everest.
Shray is always trying to keep himself up to date with the latest research on endurance training. He is looking to take his athletes to the "next level" by incorporating metabolic testing to customize an athlete's training based on their unique physiology . VLamax , fatmax, anaerobic threshold, VO2 max are some of the metabolic markers used by Shray to customize training plans based on each individual's physiology
Achievements
2022

Ironman Waco 2022 (5th in age group)11:17:49

San Diego 5k Resolution run 18:44

Ironman 70.3 Boulder5:01:51

Ironman 70.3 St George (World Championship)5:29:36

Ironman 70.3 Oceanside6:04:07

Ironman Des Moines11:11:35

2021

Ironman Des Moines 70.3 (shortened Bike course)3:39:51

Ironman 70.3 Oceanside5:19:57

Ironman 70.3 Oregon5:02:39

Ironman 70.3 St George 2021 (World Championship)5:40:02

2020

Carlsbad Half Marathon1:31:40

2019

Silver Strand half marathon1:33:17

San Diego Half Marathon1:37:26

Ironman 70.3 Boulder, Colorado5:21:09

San Diego Rock and Roll Half Marathon1:34:49

2018

San Diego Rock Roll half marathon1:39:02

Brineman 70.3 2018 (Half Iron distance)5:47:17

2016

Ironman Louisville 12:32:23